» Our Coalition
What is the GHPI?
Diseases get worse as we grow older. So if we could age more slowly we would be have less risk of disease. We would live healthier lives into old age, longer "healthspans".
Now research published in prestigious scientific journals has shown it is possible in animals. Can these therapies be applied to humans? Could we reduce cancer, heart disease, Alzheimer's, and stroke?
The Global Healthspan Policy Institute lobbies the US Congress and governments around the world to fund relevant research, such as a metformin study approved by the US FDA. We work with government to remove regulatory barriers to healthspan research. We lead and coordinate public policy for the hundreds of groups active in aging research, and the thousands of cancer, heart disease, Alzheimer's, and stroke organizations that would benefit.
Benefits to the Coalition
Your organization can join the GHPI coalition for free and has no obligation.
You get access to the GHPI fellows, top experts in aging research. You gain more influence over national and world events. You are invited to our pilot projects. You get access to healthspan investment funds and our ability to promote your achievements. You get news updates, and can join our weekly coordinating call that steers the future of the healthspan movement.
How to Join
Contact us for questions or to join, or use the coalition form at the bottom of the coalition list. There is no paperwork. Just say yes and you'll start receiving news and optional invitations to everything we do.
Major Coalition Members – International
Major Coalition Members – United States
Regional Coalition Members
About You Care Coordination
Alaska Community Care
Barren River Area Development District/Area Agency on Aging and Independent Living
Elite Adult Day Care Center>
"Map and Report On Life Extension Research and Advocacy Organizations"
Check out this report on a variety of Life Extension Research & Advocacy Organizations, complete with a map of how they're all linked together in the community.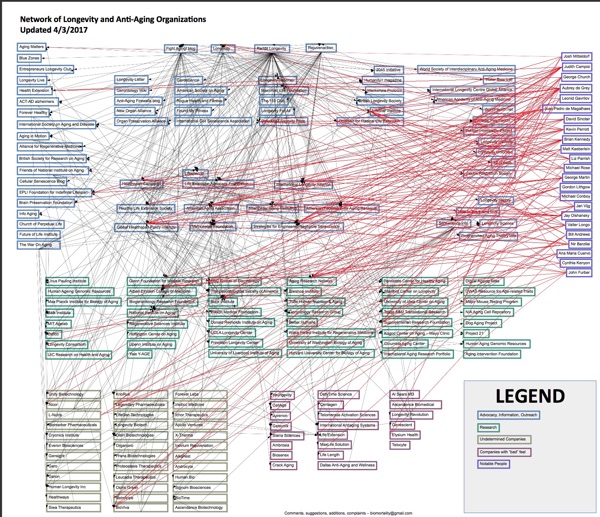 Join the Coalition