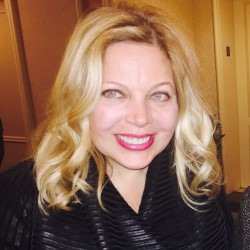 Hello,
Exciting days are in store for the healthspan community.
A billion dollars has been committed to new projects to support the field, representing a significant move forward for our entire community.
The FDA and National Cancer Institute have offered new efforts to engage the research community in a much larger way, and you can learn more about how your work can be a part of their mission.
New interest is being sparked globally around healthspan and our goals. GHPI staff and Fellows are daily taking the message of healther, more productive years of life to the world, and they are listening.
Today shows promise, and tomorrow offers an even brighter vision. Let us take the steps today that must be taken in order to reach it, together!
Edwina Rogers, CEO
---
Global Healthspan Policy Institute
Edwina Rogers Attends IVAO Conference
This week, GHPI CEO Edwina Rogers went to St. Petersburg to join the participants of the IVAO conference for a few days of international policy planning and collaboration. Here she is pictured with Lada Fomenko, IVAO President and Andrew Voronkov, Research Director for IVAO, at the IVAO Biomedical Innovation for Healthy Longevity Conference.
---
New Opportunities To Impact The War On Cancer
The National Cancer Institute has created a new platform for people with new ideas to share as goals for the Cancer Moonshot Initiative. Click here to learn more about how your research could be a part of the biggest effort to end cancer we have seen in years, and what others have offered!
---
GHPI Fellows' Spotlight
Dr. Leon Ferder, MD, PhD
GHPI Fellow Dr. Leon Ferder is a frequent global speaker, offering his voice most recently to the Argentine Society of Hypertension. His seminar, entitled " Aging as a risk factor in cardiovascular disease" was a major success to the over 2,500 participants, and sparked new interest in the work of GHPI around the world.
Read More About Dr. Ferder Here
---
St. Petersburg Investment Fund to Commit $1 Billion To New Projects
In an exciting development, IVAO has announced plans to invest over $1 billion into new projects around aging and longevity.
---
FDA's Breakthrough Therapy Designation: What You Need To Know
In this two part interview, Dr. Rich Moscicki takes a deep dive into FDA's Breakthrough Therapy designation to help clarify common misunderstandings around this expedited program. Dr. Moscicki also breaks down each of CDER's expedited pathways to help readers understand not only the lingo, but also the implications of expedited reviews and approvals.
---
We're Bringing the Best Research in the World to Congress – and Your Donations Are The Fuel To Our Fire!
With your help, we're bringing the vision of a world without the spectre of diseases like cancer, heart disease, and Alzheimer's one step closer to reality each and every day. Our team works closely with industry leaders from sectors as far-reaching as biotechnology to gene therapy to pharmaceuticals and beyond – uniting our members under a common, core mission to benefit the public trust.
Help us bring new preventions and therapeutics for the benefit of all generations, today
---
All Call For Volunteers For Healthier, More Productive Years of Life!
What if the US Congress took the lead funding healthspan research? Or by removing barriers to treatments to new therapeutics that can prevent diseases like cancer?
For the first time governments seem to be listening — and you can help!
GHPI needs volunteers to engage with the public and ally nonprofit groups around the world.
Contact jmonsarrat@healthspanpolicy.org to join the tiger team today!